Have you met Jill?
Listen to the track that inspired me! 👉🏻
Head over to the story, start reading & get inspired! 👇🏻
So its Friday and Jill woke up at 6 something to take a shower and wash her hair. I was still asleep. Waking up for me too after some more minutes to rest… getting ready for my first day in London: I'm following Jill around her life and world for some days. I am her intern for some days and I want to see how she lives her life! 
Getting up early I have notice it's probably her thing for some months now, getting to bed late too. 
So having a multivitamin drink in the morning to stay healthy for this maybe exhausting lifestyle. 
What to wear? It's London, so maybe a skirt? Yeah, that works. 
We are heading to the train station very early, early birds I would say.
The trains are still kinda empty, it is quiet still. So its perfect to go without the rush. 
Heading to this co-working space next to Old Street, it seems we are again the first ones. Making us a cup of peppermint tea, because the coffee machine is not switched on yet and we can't figure out how to switch it actually on. So tea should work :-)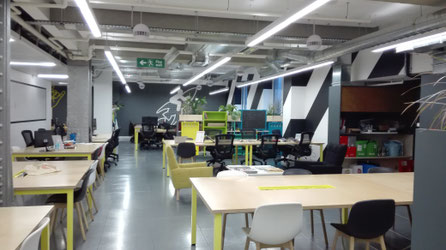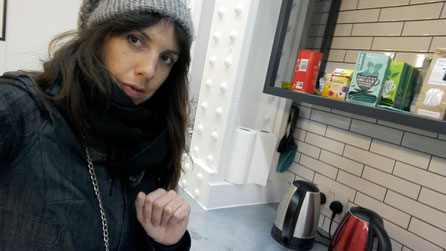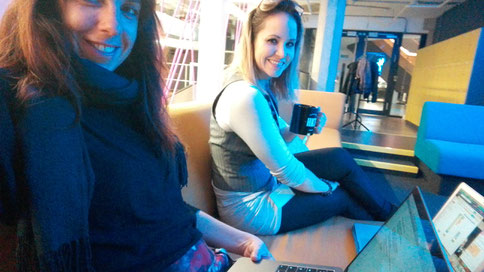 First meeting - actually it's a video meeting - is with the board of Fem Tech Talks. And I am Jill's intern for some days so I'm writing notes. Trying to keep up with the speed of the women's ideas, and it's in English, so don't mind my mistakes although with the auto correction it's kinda simple. I get the idea of brainstorming first in the morning, even though some of the women are still in bed. But never mind, the ideas flow.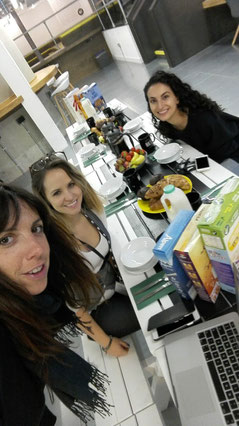 At 9 there is the next thing aligned. We are having a beautiful breakfast with the accelerator program from the Huckletree co-working space. 5 women just chatting about their businesses & ideas and having a heart warming breakfast. Joe even gets us soy and almond milk, so we vegan people can enjoy our cereals. 
 At 10 it's time to leave, we need to take the bus to the next thing. We are heading to the Droidcon - an Android App developer - convention, where Jill is having a small booth. And I'm still on her side.
Now its 3.19 pm and I'm watching out for her booth - in between all tech people, nerds someone would say. But I'm just amazed on how things are flowing here in this industry. Everyone is young and open minded, I guess. From all over the world it seems. Ok, that is probably London. 
Getting tired, sitting in this comfy chair and observing people meanwhile writing those lines. 
Jill is having the second meeting at this convention. First Peter from London police came to talk business and now she is negotiation with potential new team members. 
And i'm getting tired….tired, oh yes and kinda bored ….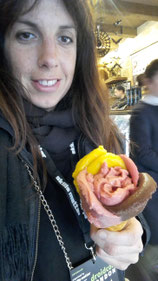 So i finally went to have a walk and left Jill staying busy  working. I decided to walk in on the sunny side of the street so I have chosen to take the dirty road. I don't mind getting lost, I feel safe during day time. I actually always felt safe when I was travelling but now with Jill making the app "Safe & the city" I pay more attention to walk safe in a city I'm not used to be. I mean, I have travelled the world - more then 22 countries - and I was lucky as hell that I never ran into problems before. 
I finally found the nicer streets in the area the convention was held and I got even an ice-cream shaped like a flower, I was hungry. Our vegan lunch was not as good, because I got used to Jill's awesome vegan cooking skills. 
At the convention we stayed until 5 something pm, leaving us both very tired. But the day isn't over yet, we have to go back to the Huckletree co-working space because she has this Web Summit meeting. Rush hour in London is crazy although Jill says it isn't as bad as it can get. We stay very closed up next to strangers in the Underground and I get the feeling that a stranger can just grab your ass or whatever. You wouldn't even know if it was an "accident" or intended...
Out of the crowed Underground back to walking and walking. Luckily I wear flat shoes, knowing that in big cities you need to walk a lot. It's not my first time :-)
Back at Huckletree we see that no-one is here yet for the meeting so we can hang out a little bit and chill. I tell Jill "just lay down and put your head on my lap so you can have a little bit of rest" She needs it. It would be good for her if she gets on a very busy day like this, a rest of 15 minutes, some time just to herself…I tell her that and I hope she will remember my words.
We move back to the sofas and Jill tries to show me how to use social media in a smart way and I have to admit, that I fell asleep sitting next to her. I have this great thing, that I can sleep everywhere. It is very handy if you travel a lot or if you constant on the go.
So I have a hard time following her. Luckily I get rescued by Paolo, who showed up for the Web Summit meeting. Paolo is from Italy and they start talking about the Lisbon event, which seems to be the best thing - lets say - in the world if you look to get in contact with VC (= venture capitalism) and other people from the industry. It's gonna be insane, they say. Another girl (i don't remember her name) shows up, she just rode the bike I assume because she has a helmet tied to her backpack. She seems to know a lot of the people who gonna be at the Summit. Another guy joins the group, he says he was in the group that actually founded the Web Summit. All professional tech people around me and I am like … "okay, I don't know anything about tech…" :-)
The meeting is short and people start leaving the place, we go out of the cool building together, the girl takes her bike - so I was right that she is biking - and she leaves us pedestrians behind. We walk to the next underground station, Old Street! Paolo is still with us, we talk about things. I wonder how life is away from Italy, when he decided to move away, where he was before, what his life looks like, how to keep up with the fast pace in London, how to survive the city healthy and not to get drained into the void.
After some stops it's just me and Jill left and we are both tired!

Back at home we both get finally to relax and Jill starts making vegan cookies. That's her way to relax she says, leaving me and her flatmate Jason speechless. But we have to admit, that we love the cookies. Specially eating them during watching a movie! 
The day ends somewhen after 1 am and we fall in our beds and let dreamland take over control… till to the next day!
---
Find & Follow Jill (Jillian Kowalchuk) on Social Media