This time I feature a Deep House set (Ben Böhmer @ Anjunadeep), which lasts about an hour. So you are welcome to listen to the full set if you'd like 👉🏻
Otherwise you can just jump to the beginning of my story 👇🏻
---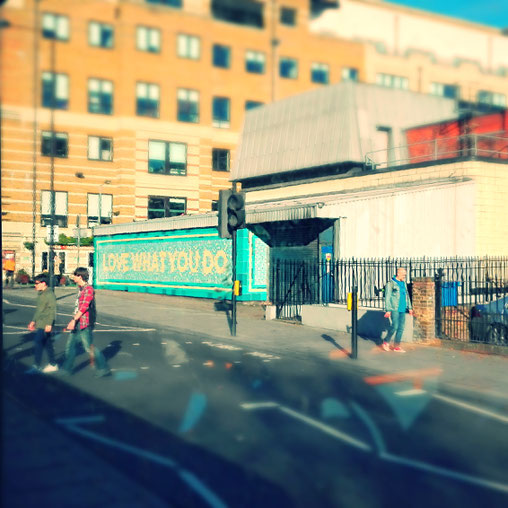 On My Way To London
26.10. - 1 pm
In the train….on my way to London - actually first to Verona, to catch the Easy Jet flight to London. 
And I am finally writing on my brand new MacBook Pro. I am super excited to have this cool new tool, I know it will redefine my working and playing attitude around the world.
I am just stepping out of my comfort zone, to leave a world behind me, I was in now for three years and some months. I can't breath anymore, I didn't feel my soul anymore. It was just a rhythmic routine, in with everyone seems to be trapped.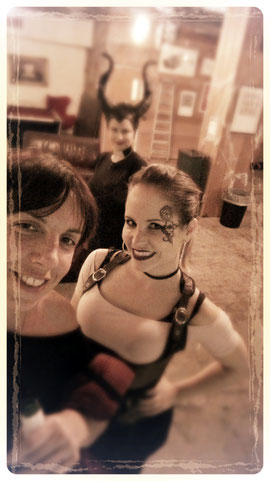 First Hours In London
26.10. - 10 pm
Being in London seems to be absolutely fantastic. Seeing my very good friend Jill again…. meeting her in the heart of London at a party. It is a very nice welcome to London. Dropping of my suitcase and bag and we are having a dance and a drink. It's one of these parties where everything is for free. Nice one! It is hosted in this co-working space at Old Street called Run Way East. It's a halloween party.  Me coming straight from Italy and from the airport and being dressed completely normal and no make up at all - I feel a bit inappropriately with my appearance. But who cares, it's anyway darkish so I decided to enjoy my time here instead of feeling uneasy. 
As it is getting late, we decide to leave the place and go home. To safe some quits I download quickly Uber to be able to use it right away.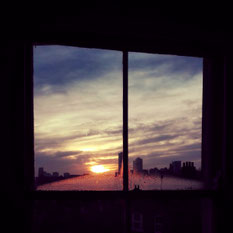 Lazy Sunday 
29.10. - 10 am
In bed still…or lets say back to bed for a bit! A lazy Sunday in London. I am on vacation so I it should take a rest. After the last two busy days following Jill around London it's nice to stay in bed longer. 
So today we are going to have brunch with Jill's flatmates & their beloved ones. Slowly everybody seems to get up and getting ready for a lazy Sunday.  

---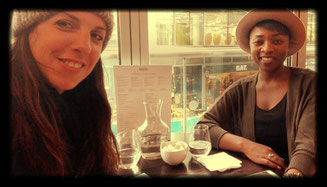 Talking Books
&
More
30.10. - 9 am
The day starts early again, it's Monday. I am meeting up with Loveness, this time without Jill. Moving my feet trough London by myself seems right, I love to be alone, too. Then the experience is different, it's more about me and my surroundings: I let myself take into the sounds, smells and views of another place - catching up the soul & pace of the city. 
I meet Loveness for Lunch at Browns and we start talking about being an author and how to write a book. She already wrote her book and she is dealing right now with publishing it properly. So she has a lot of good advice for me. The ideas flow.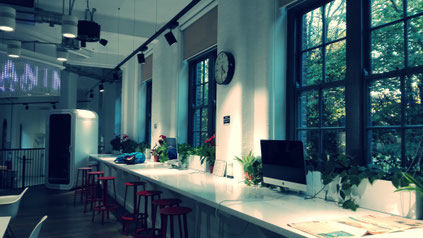 3 pm
After my inspiring lunch with Loveness I'm heading to Geovation, the 2nd co-working space Jill is working at. It's again a very cool furnished place with a lot of young professionals. Jill is helping me to a cup of coffee.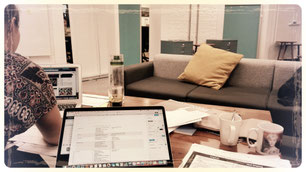 Today's task for me as Jill's intern is to make a summary of her past weekly schedules, so she get's an overview of her meetings, to do lists, achieved goals etc. I'm luckily a fast typer so I can complete my task pretty quick. Multitasking allows me even to look around the co-working space Geovation and to observe the other young professionals. To me it's inspiring to be part of all this, even just for some hours.
Opening Party At Blooms 
&
 Question Of The Evening: Do You Own A Company As Well? 
30.10. - 7 pm
Jill and I are invited to the opening party at Blooms, another co-working space focused on female entrepreneurs and Lu Lui is the founder. She published the book "Dear Female Founder - 66 Letters Of Advice From Women Entrepreneurs Who Have Made More Then $ 1 Billion In Revenue". It is an awesome book - it would be a very good gift for female friends with great ambitions!
So what's the question of the evening? "Do you own a company as well?" What a question! How many times in your life do you get asked this question? Me? Never - until today! Ok, I assume if you go to an entrepreneur event this questions is considered a normal question like other people ask "How 's the weather?".
So what to tell people? "Ähm…I am working on my book, I just started a blog and I want to get more into DJ." That quote is already more then I have ever told anybody until I came to London four days ago. And then if they ask, what the book is about, I get even more confused. I mean, I started actually today to think about it more profound as I had my lunch meeting with Loveness. 
It's what they call a "pitch"! I have heard about it before from Jill, but I have never really gotten into that thing. So now I'm getting slowly what it means. As it seems, I need to work on my pitch. Depends of course how much time you have available: it can vary from 30 seconds to 5 minutes or even longer. I want to build a brand, write a blog, getting into social media, writing my book…. I feel the urge to first think this ideas through before starting to "brain vomit" on people. 
I can see, that it's easy to get drowned into this high pace & high mindset. You are surrounded by almost just founders of StartUps & other companies, or people who have already successfully sold their StartUp and they are now into the second, third or whatsoever business. And you talk to people like Rishi, who is not even 30 and who is flying around the world to speak at conventions and suchlike. Rishi's Chowdhury pitch is the following: "I'm co founder of IncuBus Ventures and Momentum StartUps, supporting the growth of StartUps and future proof corporates. I'm passionate about developing StartUp ecosystems, I regularly advise on StartUp programmes around the world." What a nice one!
Wow, so many impressive lives and stories. Like Alex Depledge, co founder of hassle.com, who is giving a speech after Lu Lui's opening speech. At this event I don't even talk to the people properly. I'm still intimidated by everyone and everything. This co-working space has actually its own make up room and day-care center. Just to be able to be here is already a big inspiration. If people talk to me and want to get to know me, I'm getting kinda shy. It's weird - I know, me being shy - but in this kind of event I still need to get more self-confident. 
---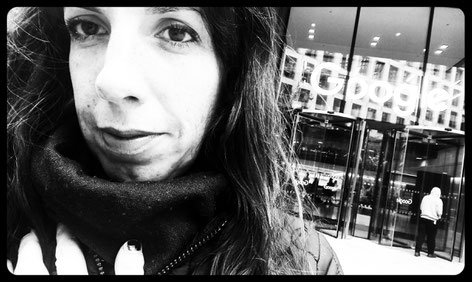 Lunch At Google & Drinks At St. Pancras Hotel
31.10. - 12.15 pm
The day has come, we get to have lunch at Google! My friend Jason from Vancouver lives in London and works for Google, more precisely he works for DeepMind. They are working on AI (AI = Artificial Intelligence). I would say Jason is having a very interesting job, although it's kinda scary industry for "normal" people.  
The Google-building hosts a YouTube branch as well. 
Jason comes to get Jill and me in the lobby and we can choose between some restaurants where we would like to have our lunch. We choose a restaurant. I walk around to take it all in. So many choices: so much fresh food is getting prepared. They have a section with Asian food, Italian food (they make even fresh pasta), sandwich section etc. At the fresh juice counter we can't take enough juices and we start piling our glasses. It's very nice to take as much food & juices as you want and you don't have to pay. Everything is for free! Even for us guests. 
After filling our stomachs to the top we decide to tour Google - as far as guests are allowed to walk around, of course. We are heading to the last floor in the building to get a soy milk cappuccino. The cafeteria looks like a regular cafe place, just again no money needed. 
After our lovely lunch and coffee Jill and me are leaving Google and we let Jason continue working. We decide to go check out the hood and to get a drink after our stuffed lunch. We end up going to the nearby St. Pancras Renaissance Hotel London. It is situated in an old historical building, right next to the International train station. 
31.10. - 6 pm
The day is not over yet. We are heading back to Jill's flat. It's dinner & game night at Jill's flat and her flatmates started already cooking: we are making pumpkin soup with bruschetta. And we start the game "Cards against Humanity". It's an awesome game, specially to learn better English - ok, well I learn more slang and figures of speech. The day ends with old & new friends, lots of laughter and tasty homemade food. 
---
Just click on the names to get to the links to the people mentioned in this blog:
Loveness on Facebook

@game changer junkie
Lu Lui's Book - 

Dear

Female Founder - 66 Letters Of Advice From Women Entrepreneurs Who Have Made More Then $ 1 Billion In Revenue