---
This time I feature Lane 8's Fall 2017 Mixtape... enjoyable best with 🎧
---
---
I'm flying in from London.
All stressed and cold from the city.
For me it takes a toll to be in a city like London.
I don't know what it is, but there is something that takes a lot of energy away from a human being like me.
So for me it's now a wonderful journey to Barcelona.
Barcelona seems to be a complete different experience. I gonna recharge my batteries.
First days and nights are here for friends, eating out & some dancing... 
But now it's time to reflect on my last experience and the ones I'm having right now, right here.
Life is priceless - time is all what we have! 
Meeting so many people from all over the world, being part of their lifes for a bit.
It's enchanting.
It's like swopping lives for some time.
Being part of another world!
There exist so many. 
And I want to share their & my stories.
They are all unique as any of us is. It's like a big mosaic, the details make everything so special.
And I am one big mosaic, that got shattered all over the world and it's about time that all pieces come get back together. 
This is my life and I want to live it as I want it to be.
My dreams, my goals, my rules, my values, my creativity! 
We are all united in our differences! And I want to show you mine.
Irene Huber - 02.11.2017
---
---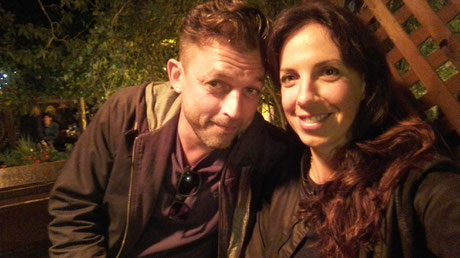 I gonna stay at Ben's house in Barcelona. But he won't be there, because he is in London. So we actually meet in London instead of Barcelona, before heading to the city. Small little world! The life of travellers, meeting all over the world.  The world being our playground. Constantly on the move, sometimes faster, sometimes slower. It's up to us to choose the pace.
---
Now I'm on my journey to Barcelona. Some more days of vacation before going back home.
Am I going to find the key he left me hidden somewhere? I don't know, it's very exciting! Life should be more often exciting and adventurous, I like that feeling!
After some debating with myself at the airport in Barcelona, if I should take the bus or the cab. Saving money and going with public transportation in an almost unknown city? Na, I rather prefer paying € 30,00 but getting to my destination comfortable. 
The cab driver lets me out of his car exact by the entrance. Nice feeling! Home! Wow! It's so stunning here! I fell in love with the views in the first time - and now my second time it's even sweeter, because I am back! Yeah. 
And I'm able to find the keys! Happy happy to have a place like this to stay. 
---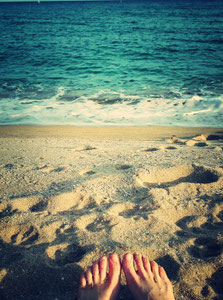 I'm going to meet Ben's friend Anthony in a bit. He  works like Ben as a freelancer in the film industry. They are both cameraman & fly for their gigs to London, Venice and more.
But I still got some time left to hit the beach.... It's late summer here in Barcelona.  It's time to leave cold London behind. Adorable change!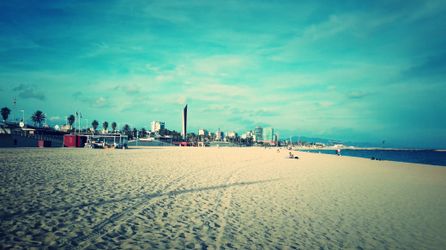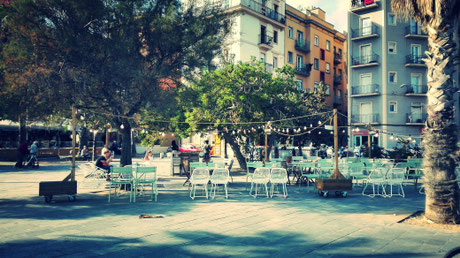 ---
Have a walk with me through Barcelona...Step By Step...walking next to Irene...
---
---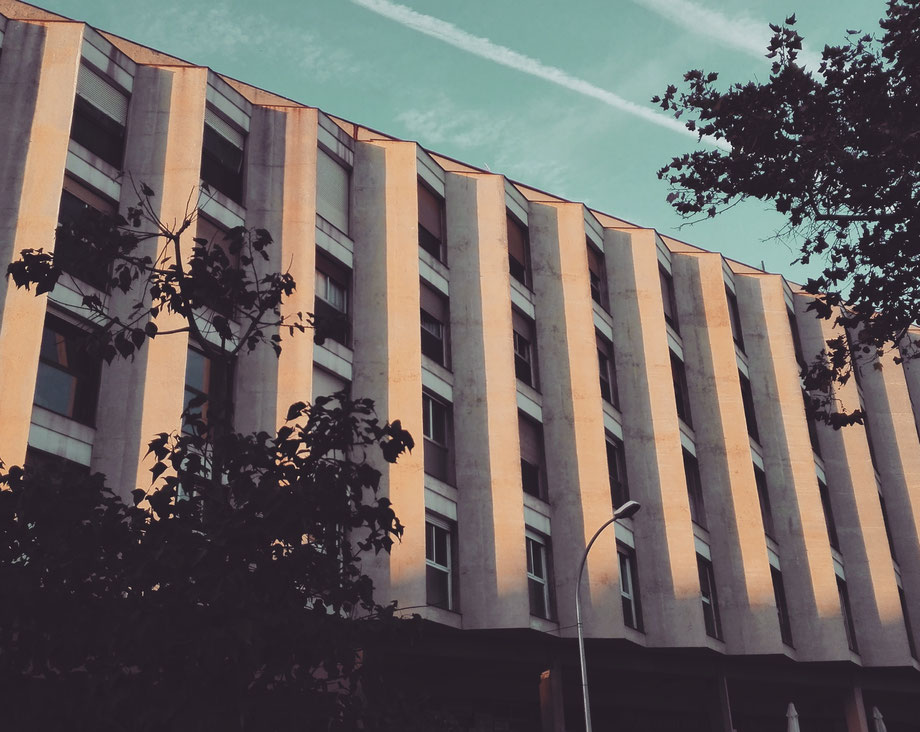 ---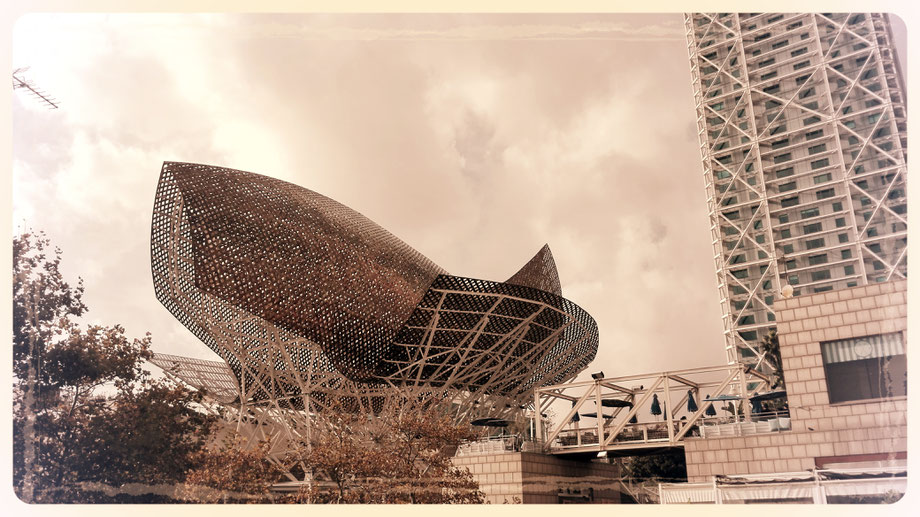 ---
Going to meet Anthony infront of the W Hotel ....
---
---
After a drink (Anthony and I agree on that the drinks weren't that good), we leave the place and go for a walk at the Esplanade in Barcelona. 
The sun is setting, the city is in chilling mode. The air is still warm, although you can already feel the fresh breeze coming directly from the sea next to us. There are still people on the beach and other people are strolling next to each other on the side walk. 
---
---
We decide to have some dinner, it's getting late. We keep walking and we choose some nice small restaurant Anthony knows. We order some great tapas from the menu. 
---
---
Next day, at Ben's house - or lets say - my house ;) I can't get enough of this million dollar view...
---
---
It's time to meet Anthony again. It seems he is my designated host for my stay, so we meet up for dinner & tapas.
The time has come to leave and to head to the movies - we watch a music documentary - American Vallhalla. I have to admit that I almost fell asleep during the movie...
---
---
The next day I decide to stay at home, writing a bit and listening to great music.
When my stomach starts to crave for food, I'm leaving the house to find some grocery store. I'm getting lucky with it and I can't wait to make myself some healthy almost vegan dinner. 
Back at Ben's and eating my delicious meal, I'm staring out the windows. What a feeling, I'm grateful to be here in this moment. 
---
---
After a relaxing day working on my projects I'm in a pleasant anticipation to meet up with Ben's friends (and now they are my friends as well)... 
---
---
Walking trough Barcelona with my friends - I have to stop to make photos of some great street art. I love graffitis like these...
---
---
Last night in Barcelona....
So I am going for a walk and I found the man doing yoga...could be actually me!
Till next time Barcelona.
It won't be long and hopefully this time I will see Ben! 
---