This time I feature the brother of my friend Kathrin. She just recently showed me her favourite track and I have to admit, it was my favourite track for some days as well. Please enjoy "Pocket Noise - You Turn Me .." (Click on the link of Soundcloud below)
---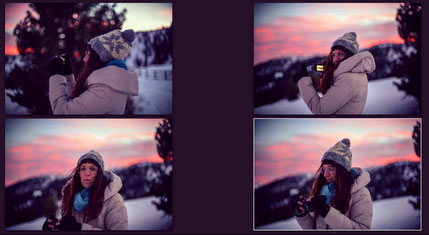 ---
Christmas in the Italian Alps instead of Paris & Mexico... Well, at least I have an awesome home. Check it out with me.... and get amazed by our winter wonder land in the Dolomites - photos taken at sunset time.
---
---
21.12.2017
Wow, everything feels so unreal - or real? I don't know. Somewhere on the road the last days, weeks, months I've lost myself. Or maybe I'm finally finding myself - my true inner me. 
Who knows, but as I've said before, I'm on my way to find it out! And it's nice to have some close friends on my side, a lot of them I've got to know just recently. My new friends seem to be the right fit for me. So I'm enjoying friend's time, even if it's not regularly. 
My journey to Paris & Mexico isn't just a vacation. No. I see it differently. Doing things with a meaning, is so much better. Not just doing them out of  obligation or necessity.
I'm leaving Italy on the very last days of 2017. And I'm leaving to get some freedom back. I know, it won't be like when I was 27, when I was thinking of leaving for a year. One year turned into three years. I came back home once a year though. I went to the doctors, got vaccination, talked to my bank, organised paper stuff, mum's birthday, Christmas maybe and of course the wedding of my best friend Nadia. I tried to keep in touch with my friends & family from back home: Even if it was almost like a very fine string. But I've never lost the string. I even wrote already back then, but not blogging. Not a blog like I just recently started. Yes, it's this one, this is what you reading right now. Back then people still wrote emails - or used Skype. It was harder to keep in touch I guess.
Back to the very last days of 2017:
So here I am. I'm about to leave soon. That means if I'm able to solve my passport-situation out. I mean I don't know if I will be able to board my plane to Paris and then Mexico. What an unexpected situation. It will clear out. I know it. 
23.12.2017
Destiny plays it own game.  I had a plan and destiny still has a joker in its hand. 
Ok, well. First I was frustrated, then annoyed and today I decided to just accept it anyway. I can't change it. 
I won't spend Christmas in Paris and in Mexico anymore. I have to postpone my vacation due to force of majeure. But I'll get to Mexico later. 
There is a good side of it too though: I don't have to hurry to go on vacation. I can take my time. I can even see most of my friends and family to say Merry Christmas and a Happy New Year. I get to do finally some outdoor fun times in the snow, now that I'm officially off work. I had my last day at work yesterday. It's over!
I still can't completely realise it. But I will eventually later on. 
So here I am, still in the Italian Alps. The least I can do is to show you some pics of my lovely home called South Tyrol. We actually live in the mountains, so we don't have to go far to reach the top of the mountains. It's special here, so much nature. It's perfect to slow down, to reach the simpleness. To breath. To let go. Therefore, I'm more then happy to share my today's trip with you.
---
---
---
Outside it is very quite, we were almost the only ones walking this late on a Saturday, the day before Christmas.
After this breathtaking sunset on the mountains we got hungry. First we stopped by a hut on the Villanderer Alm to drink some tea We drove down to the next village Villanders and we had dinner at a very nice restaurant "Zum Steinbock", quite and high quality food. We enjoyed our dinner with some nice rose Champagne, some nice Sauvignon Blanc with the fish plate and some local Lagrein with the meat dish.
With this last lines I want to wish you all my dear friends & followers Merry Christmas. 
Get some rest over the holidays, some days away from work & routine, enjoy some family & friends time and spend some quality time together. 
---
---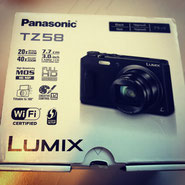 Today's photos got shoot with my early Christmas present... a Panasonic Lumix with WiFi, used by other bloggers, too. So it's perfect for me as well. Easy handling, fun to shoot with 👍 With iPhone & right App easy to access.