Meanwhile reading listen to  Anouka - Tiny Tine...
👇🏻
01.01.2018 - New Year's Day in Toluca
I'm waking up and it's actually New Year's Day and I'm in Mexico. I just got a call from Jill. I could hear from her voice that she is doing very good, she is very happy and I'm very happy for her. I'm glad that she gets to enjoy her time. How much better would the world be, if everyone would be happy all the time?
I'm still laying in bed but it's soon time to get up. Gily, Carlos and Isabella are already awake. I can hear them walking around the house even though they are always very quite. 
I heard a very nice waking up music but now it stopped. I hope the music will soon continue. 
Setting goals would be on my list…
Publishing my blog is on my list too….
But the first day of the new year just started, so I'm going to give myself a break from the break ;-)
Oh, the music is back on. I probably should get up, say "Good morning" to my new family and get some coffee. 
---
03.01.2018 - Last night in Toluca
So much happened in this short time. Wow, it's breathtaking how much love I felt this days in a to me complete strange country and with people I barley knew.
I wanted to spend New Year's Eve somewhere far away from home, from all what happened in 2017. It was a tough year, I learned so much, I grew so much, I tried to turn so many obstacles in positive things, I stand finally to my values and I started to sort out my own rules and my own conditions on how I want to live my life from now on. It was a long process, which isn't over yet and it's good like this. Life is a constant journey of growing and learning, of falling on the ass and standing back up, fighting for your own dreams and values. 
For all the above mentioned reasons I wanted to close the year 2017 somewhere different, somewhere I can just live the moment, not knowing what will happen next. I let myself into someone else's live and I wanted to get inspired. I intended to start 2018 fresh and new, without thinking too much about what happened 2017. 
All the things I wished for, happened. Even more so, I got way more then I wished for. I never expect anything when I travel. Because if you expect something, the chance that you get disappointed are high. So I like to go with the flow. I let myself surprise by life - and it's amazing what happens then. 
When I met Carlos and Gily at the busstop at the train station in Venice to go to the airport of Venice I would have never thought that I would be now writing this lines in one of their bedrooms and that I have just spend five wonderful days with them and their families in Toluca, Mexico. And as we were just talking in the car driving back home from a perfect family exploring day, Carlos and Gily would have never imagined this could have happened either. 
So please, go out and explore the world. Be surprised by the beautiful life that you have. And never stop dreaming! Chase your dreams as I do chase mine. Even if I don't know where my dreams will bring me. Be curious, be hungry and be open to the wonderful and magical moments that we call life!
---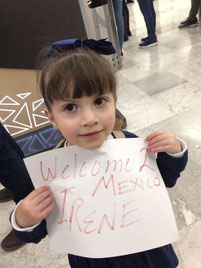 But now it's time to start from the beginning:
The five wonderful and awesome days were filled with lots of love, laughter and I got to know the families of Carlos & Gily and some of their friends too. So please let me introduce you to Carlos & Gily, Isabella & Camilla, Carlos (father of Carlos), Irma, Benjamin, Ana, Benjamin (son of Benjamin), Azmy, Cecy, Gabi & Antonio, Antonio (cousin of Carlos). By the way: It's a custom to name the first son in Mexico of their father.
I landed in Mexico City on the 30.12. at 4.20 pm. After passing immigration and getting by luggage I was welcomed by Isabella, Gily and Carlos directly at the exit of the international flights. Isabella hold a sign "Welcome 2 Mexico Irene" and I could see their excited faces. I got greeted with big hugs and kisses on my cheek. Wow, I'm finally here! And the exploring of Mexico started right away. We didn't drive home yet, no, I first got to see the best places in Mexico City. And I got to try some of the most traditional food to eat and of course some beverages as well to drink.
Places in Mexico City visited
It's time for some awesome Mexican street food & Tacos
I'm even eating Chapulins (Grasshopper) but just with Mezcal
When we arrive at Carlos & Gily's house late at night, I'm falling very tired but very happy to sleep. 
---
Gily, Isabella and Carlos live in Toluca which is a city about one hour from Mexico City away. It's situated on 2.600 m and because it's winter time there as well it gets cold at nights. 
The next days we spend most of our time visiting places nearby Toluca.
We start off with a day at the Ceremonial Centre Otomi at Temoaya where the Personas Indigenas explain me the history and the meaning about this spiritual place: 
The sun is the middle part of the whole Centre. Around the sun there are 12 silos, which symbolise the 12 month a year has. Then there are 52 snakes, which are the symbol of the 52 weeks a year. Stairs are in total 365 and last but not least there are even 7 snakeheads which symbolise the 7 days of a week. 
In this Ceremonial Centre Otomai at Temoaya every Sunday is a ceremony held. There can be as well demonstration happening.
We walk around and we can feel the energy, that hosts this sacral place. 
---
31.12.2017 - New Years Eve
Carlos and Gily host a New Years Eve party for their families. I'm excited to get to know them all. I hope I can remember all their names right away as I'm usually having a hard time remembering names. With faces I'm way better. It's all about spending quality time with the families and food. 
Carlos serves Aperol Spriz as an aperitif, so I feel like at home. 
Shortly before midnight we get all 12 grapes to eat, which symbolise 12 wishes. Wow, so many wishes I get, I have to start thinking. So the last seconds of 2017 we are supposed to eat all grapes and to make our wishes. I'm not able to eat them all in time, but I still made my wishes. 
We even let fly a lamp into the sky of 2018. 
Short after midnight, Carlos's dad starts to sing and he gets me completely in his ban. He sings breathtaking, I never heard such a voice singing in a living room. I'm very impressed and I enjoy his singing. 
Later at night friends of Carlos are coming over to cheer to the New Year and to have some drinks. I get to meet Elizabeth & Pepe and Ana & Juan and we have a lovely late night.  
---
After I met all of Carlos and Gily's family on New Year's Eve, we were seeing each other on various occasions again and we spent some days exploring Toluca, Metepec and Valle de Bravo. I got to know as well Carlos's second daughter, Camilla and from the moment we met we are like best friends - or let's say I feel like I'm her older sister. And I even got to ride with Antonio on his Harley Davidson through Metepec and Toluca, afterwards was my was kind of sore. 
I even get invited to visit the houses of Carlos's parents, Auntie Gabi and Uncle Benjamin. MI CASA ES TU CASA means "my house is your house". I heard that in these five days more then one time and I knew I made new friends for a life time. I met my new family in Mexico and I know I'll return one day hopefully soon! 
Hasta pronto!
A very big thanks goes to everyone that made my stay in Toluca so special and full of love. I don't know how I can give back what I got in those days with all this amazing people. I miss you guys!