---
Have fun listening to Nils Hoffmann's "Winter Mixtape" 👇🏻 enjoyable best with 🎧
---
11.01.2018 - I'm awaking with a new spirit & chasing a sunrise
What a great feeling to wake up early and getting out of the hotel to chase the sunrise. It was still dark when I got up, but the dawn was already on its way. I took a bicycle from the hotel I'm staying in to be faster on the lake. Peddling down the little village Bacalar. The streets weren't empty, but instead there were a lot of children who were in a rush to go to school. 
Yesterday evening I went already to the lake to look for the perfect location to catch the sunrise this morning. It wasn't easy because the lake is just partial accessible. There are mostly private houses or restaurants & bars and hotels. I used the app SunSurveyor to see where the sun is going to rise this morning. It's easy and a lot of fun to use. A very good friend of mine actually got me the idea to use this app. 
The lake this morning at dawn was in complete peace, just some birds were flying around and singing a good morning song to the sun and to me. There was still some morning mist on the lake, which disappeared after the sun rose. I tried to shoot THE picture. I used two cameras, the one on my phone and my digital camera. I like to experiment with both cameras, to see the differences of the photos taken.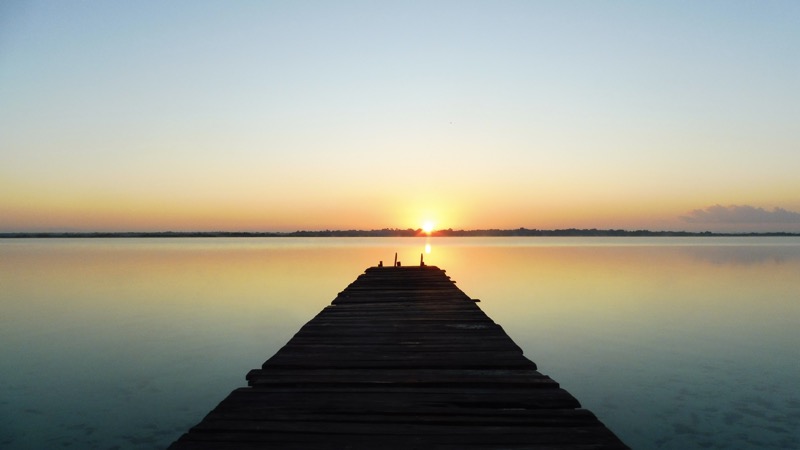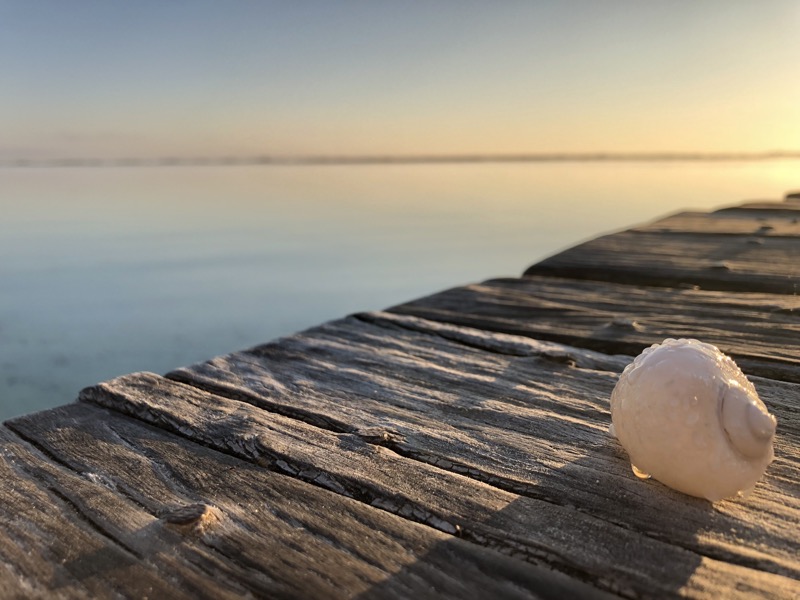 Energised from the sunrise and the peace I rode my bicycle back to the hotel. I got hungry, therefore it was nice to know, that someone is preparing a breakfast for me. I got fresh cut fruits, granola, scrambled eggs with toast and a coffee. It was a perfect start to a new day. A new day is on the horizon and I started it the best possible way. And now I'm taking some time to write.
At 11.30 am I'm going to meet my new friend Pauline from France and Australia. I met her yesterday at the Yak Hostel which is located right at the lake. I wanted to drink a cerveza (= beer) and to listen to the cool electronic music that was being played there. Meeting new people is very easy at hostels as everyone is traveling and everyone wants to share stories or is on the search for new friends, for travel tips or just a nice chat. Pauline is on her journey to find a place where she wants to live and work. She isn't sure yet where that gonna be and she said it's a bit frightening not to know what's going to be next. But exactly that is the adventure we call life. Of course I told her my story, that I don't know either how I am going to live my life, but I know we are both on the right track because we do what we love!

---
Since I left Toluca and my dear friends Gily, Carlos, Isabella & Camilla and all the other behind, I mostly just stayed in hotels. I was looking for a private room in a hostel, but they seem to be booked up in advance. I usually like to book an accommodation just for the next day. I don't like to book too many days in advance as I want to go with my flow. If I don't like a place I might just stay one night, otherwise I might stay two or even three nights. 
But I was just thinking today I should plan ahead, even though I don't like it, because I just have two weeks left to travel in Mexico and I still want to visit some places. I would like to stay in a hostel for a change. I really do like my peace, but after a while I don't mind the spirit from a hostel. It's just a complete different vibe to a hotel. There are different types of hostels, in the past I usually chose the better ones. I like to have some comfort. After eating most of the time out and after a lot of tacos & co, I really would like to cook something. Hostels usually have a kitchen to cook. A pasta would be nice or a big salad, or even just a bread with avocado and tomatoes. I like to eat healthy and fresh food. Today I'll get lucky because Pauline prepared a big salad which we gonna take to the lake and have a little picnic there. We might even end up doing some yoga together. What a great day ahead!
---
Now it's time to review my last week
I flew with Interjet from Toluca to Cancun. The flight was good, I even got served a little snack and  a beverage.

When I arrived in Cancun I took an ADO-bus to Playa del Carmen. After arriving there, I instantly had the feeling that this is not the place I wanted to stay longer. It was very crowed. A lot of tourists were flooding the streets and the beaches of Playa del Carmen. The local people seemed to be unfriendly, which is probably a result of masses of loud and demanding tourists. I usually don't like crowed places like this city. It makes me feel uneasy. Playa del Carmen is a mix of cheap stores, expensive American stores, high end hotels and budget travellers. A big mix of nationalities as well and at night a lot of drunken people, who try to get an exciting vacation experience. The beaches are crowed too. But it's a good departure point to visit a lot of places in Quintana Roo.
I decided to leave Playa del Carmen the next day and to head to Puerto Morelos. An hour of an ADO-bus ride later I arrived at the small beach town. Puerto Morelos was perfect for my needs. A lot of friendly locals, who seemed to live at their own pace and conditions. Mostly poor people but all very friendly, who greet on the streets when walking by. I liked the welcoming and friendly atmosphere a lot. Eating at local restaurants is another thing I like to do. When there are a lot of locals in a restaurant, then that is usually a good sign. Going to touristy restaurant is a welcoming change after a while, specially to have some international food, but usually it's not on my to do list. 
I met Robert from England in Puerto Morelos again. We met already at the bus station in Cancun where we both headed south. Another girl called Xandrija joined us to go snorkelling. I met her at the hostel I was staying for two nights. It was cloudy and windy but we still wanted to go out on the sea and to snorkel at the world's second biggest barrier rief. The water was a bit cold but the sea life and the coral reefs made me forget about that. Wow, I saw a lot of colourful fishes like Nemo, big barracudas and some jellyfishes. I spotted even a big manta ray.
After our snorkelling adventure we were starving for food and so we went to this local restaurant next to the hostel were Xandrija and me were staying. We got a lot of lovely seafood and fish dishes: tacos, empanadas, ceviche and even a guacamole.
Xandrija's travel was almost over, but Robert and me wanted both to go to the South. After some discussing we decided to rent a car for some days and to travel together. The rental car station was at the main road and we got a very small car. We didn't want to draw attention and to be target of any problems, therefore we chose the smallest car possible.
We drove down to Tulum and we hit right away the Maya Ruins. At the entrance we had to wait for 15 minutes to get a ticket. There were some not at all shy coatis and some black iguanas which made our wait interesting. There was a queue for tourists and for Mexicans. The Mexicans don't have to pay entrance which I think is very ok, I would like if Italians wouldn't pay for entrance at Italian historical sites either. We paid 70 Mexican Pesos each to enter. The site was open till 5 pm, so we still had about two hours. 
Of course the site was crowed, but we still found some lookouts for our own. The Maya Ruins in Tulum are magical, right next to a wonderful white beach with turquoise water. No wonder so many tourists like to visit this place. The ruins weren't that big as expected but the location made it up for it. The site is huge, there is a lot of green grassy area where we could even take some rest, as Robert didn't feel 100 % well. I took the chance to look at my pictures which I shot with my two cameras. I even was able to transfer via wifi the photos from the digital camera to my phone. So I was able to post them right away on Facebook and Instagram. Well, welcome to the travel era of digital and online influence. I remember when I started proper traveling 9 years ago (to Australia) I hadn't a smartphone yet. It wasn't even thinkable to have a digital camera with wifi, which allows you to upload the photos right away to your phone. 
In Toluca I asked Carlos where I could get a Mexican SIM-card, because I wanted to have internet access. And luckily he got me one - so thank you very much Carlos! I used first "weex" - a new SIM-Card which allowed me to use mostly Facebook and WhatsApp. In Playa del Carmen I switched to TelCel because I wanted to have full access to the internet. So if you go to Mexico have a look at the different options. I got 4 GB and unlimited calls & texts for a month, so I hope that will last until I fly back home.
I might be wrong, but I assume that every accommodation nowadays offers free wifi to there guests. Not every wifi signal is good enough to reach the rooms tough. International restaurant and bars usually have as well wifi for their guests. 

Later on Robert and me drove to our booked accommodation in Tulum town, which is actually a town builded around the main road. So nothing excited. 
The next day we went to check out the beaches of Tulum. There are just a few public accesses to the beach because most of the beach front are private hotels and resorts, most of them 4 star resorts. As we stopped to pick up a hitchhiker, we got to know Alejandro from Argentina, who works at a nearby jewellery shop. He explained us that the best beaches are in the biosphere resort of Sian Ka'an. After dropping him of at his working place, we kept driving to find those beaches. At the nature resort there was an entrance fee to pay: 35 Mexican pesos each and we had to register our car. The ride to the beach was very very bumpy, but our little car made it trough. We found a free accessible beach, where we were the only ones for some time until some other tourists came. It was great to have an almost empty beach to ourselves. There were a lot of waves in the sea so I went to play with them. I felt like a child again! I made me and my inner child very happy.

Later on that day we continued our road trip and we drove more south, to be exact we drove two and a half hours south to Bacalar. I drove as well for some time and it was fun with this little car. Unfortunately some cops stopped us and I got nervous because I knew from Carlos, that cops are just suppose to pull you over when you have done something wrong. But as there exist corrupt cops as well, they could just pull you over any time. So I was nervous because I was worried they could cause us problems. But luckily they told us to keep driving after we were waiting for some minutes on the side of the road. Huh, what a scary moment. We arrived after sunset in Bacalar and headed directly to our booked accommodation. We went for a dinner and after that I stayed up late because I finished my last blog "Mi Casa Es Tu Casa". 
The next day we explored Bacalar and I fell right away in love with this place. What a magnificent lake. It's called as well "The lake of seven colours" and we could see why. The water was crystal clear and the colours were an intense turquoise and far out it went to a darker blue. The lake was still and flat, just breathtaking. We found again a very quiet spot out of town and enjoyed our day by the lake. We got some fruits and some snacks for the afternoon in a local grocery store. The store was very basic. I like to check local grocery stores out, because you get a feeling of the real life. 
We had one more night together in Bacalar, because after that Robert and I split up and he returned the car in Puerto Morelos and he kept traveling from there. I decided to stay longer in Bacalar and to enjoy some slow down time after traveling every day to another place. 

12.01.2018 Keeping traveling
And here I'm now, still in Bacalar and finishing these lines. 
Yesterday when I was going to the laundry with my new friend Pauline we met some random people who asked where the nearest laundry is. They turned out to be Simon and Kristina from South Tyrol. I couldn't believe it! How small is the world? I mean, I traveled for such a long time in the past (three years and six months) but I just met once a person from South Tyrol. It was very very nice to meet them here in this small town. Of course we had to meet for a beer later and to have a proper chat about our life and about our trips. They are off to Belize today and they are travelling for about two months together to Colombia. Simon is already on a longer trip but Kristina just joined him a week ago.
And tonight my travel continues as well. I'm taking an ADO overnight bus to Palenque. The bus leaves at 9 pm in Bacalar and after 8 hours I should be in Palenque. I finally found a hostel I can stay in, but I booked a private room. So no dorm for me yet. I met a lot of other traveller who are the same age as me or even older and who stay in a dorm. So if they survive it, I might as well survive it. I'm sure it's just a mindset, but as I just travel for a month I might keep staying in private rooms. 
Well, for now you are updated. And I meet my friend Pauline for a late lunch/early dinner at a vegetarian/vegan place we found yesterday.
So hope you all do well and that you keep chasing your dreams as well.