---
Irene's choice of music this week
This time I share with you some liquid drum & bass vibes
Aetherial from Boey Audio.
Start listening and enjoy best as always with 🎧
👉
---
Reflections on my last two weeks in Phuket
02.01.2561 (14.04.2018) In the airplane from Phuket to Bangkok - Happy but still very tired from the Thai New Year's celebration
The time spent in Phuket went fast. The two weeks flew away like leaves from a tree during autumn. The days were filled with lots of sun and humid heat. April is supposed to be the hottest month of the year in Thailand. The mosquitos were many - they seemed to love us foreigners. The days seemed to be shorter then at home in Italy. The sun set every day around 6.30 pm, the day faded away not late after that. But the heat barely left as the night started to take over the scenery.
A hangover was overdue on this trip
I enjoyed my last day in Kamala watching the sunset from the beach. Due to my hangover from the night before, I was damned to waste half of the day in bed. As every hangover is supposed to be accompanied with a great night out beforehand, I was - even if my head was spinning and I was craving to stay in bed until midday - still smiling remembering the night before: 
The Water Festival - Thai New Year's celebration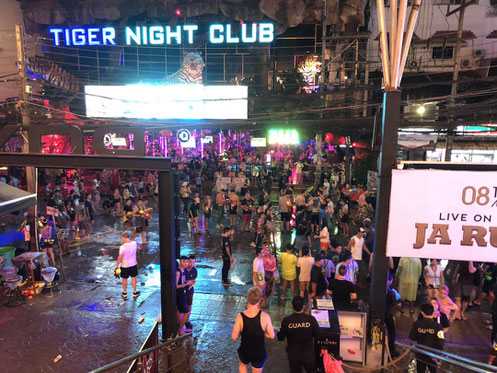 The festivities of Songkran - the Thai New Year's - had begun. The year 2561 needed to be celebrated with lots and lots of water! (Go to the end of this page to read more about the story & traditions of Songkran)
So there I was, completely wet from toes to head including my hair, walking next to hundreds and probably even thousands of other celebration and excitement seekers on Bangla Road, in the heart of Patong, the main touristy area of Phuket. I felt like a child again - even at the age of 33 and I'm more then sure that most of the other people around me felt the same. Humans from all over the world, regardless their age, race or gender - locals, tourists or expats - all united in one big New Year's celebration during this night. And the festivities had just begun. It was Thursday, the 12th April and the festivities are supposed to last till Sunday, the 15th April 2018.
For me: One night only - Happy Songkran!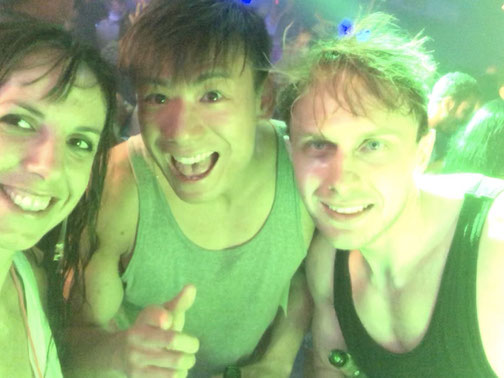 For me it was one night only, knowing that the next day I had to pack my bags and to say Good Bye to beautiful and peaceful Kamala, Phuket. Therefore, the Tequila seemed to be a good idea - which was without doubt the source of my hangover the next day. 
My new friends, Jack and Matt - both from England, took me to Patong. I've met them the day before at the poolside of the estate, where Mihaela, Ramina and I was staying. 
Our group of three (again) was well prepared: Everyone had a little plastic bag for the cell phones and for some money. And of course a big water gun was on our side. Having the most important essentials with us, we started the evening in a pink Tuk Tuk, which brought us to the busiest street in whole Phuket - Bangla Road. 
Tons of water & more water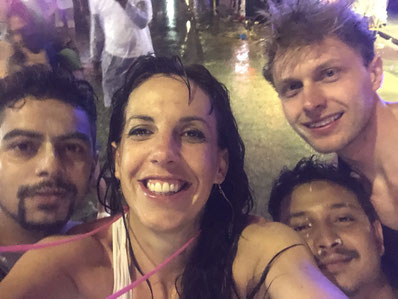 My first splash of water followed very soon and I would have never imagined how much fun it would actually be. The water came from all imaginable sides, from behind, from left and right, from the front, splashed from smaller and bigger water guns or just from a bucket. The ideas on how to water someone else on the street seemed to be endless, as well as the temperature of the water itself. Icy water left me scream loud, even thought it was still so much fun and every time a big surprise. Talcum powder was being wiped by strangers with altruism to my face. 
Club hopping in Patong, Phuket
Tons of uncountable water later, we decided to go check out some of the clubs on Bangla Road in Patong, Phuket. The water guns had to be left outside. The dance floor was filled with people like us: Drenched cloths and hair dropping water to the floor, disheveled hair and smeared makeup underlining a huge smile on every face. Some unsuccessful drying attempts in the bathroom later, I decided to move my body faster to the beat on the dance floor because I was determined not to get a cold from the air-conditioning (And as I can tell now, I succeeded with my attempt).

A Thai New Year's to remember forever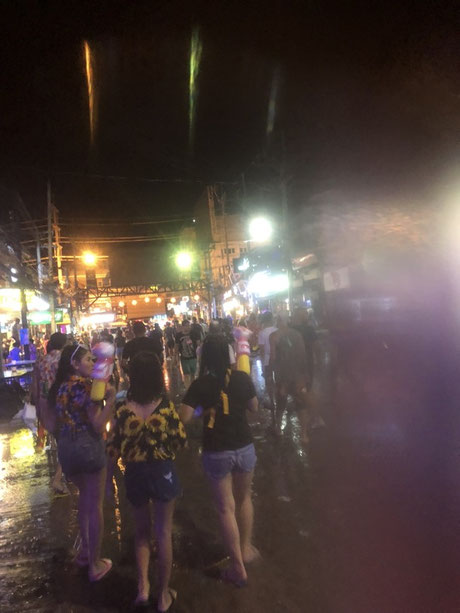 A lot of dance moves and some club hopping later, it got time to leave the crowded and completely wet Bangla Road behind us. We enjoyed much leaving the scene as we got again spattered with water and this time my friends Jack and Matt gave me even two small water guns which I used with an endless joy to spatter other people. 
Leaving Patong and Phuket behind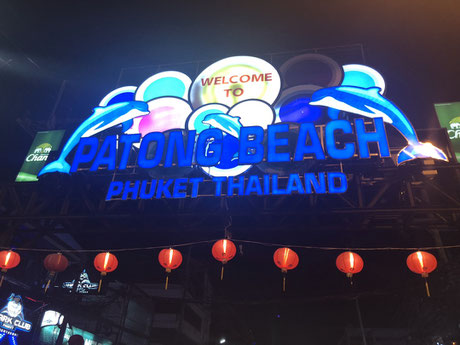 In the Tuk Tuk ride back to Kamala, three new friends summed the night up and chatted about the just happened. It was all our very first Thai New Year's.
Happy Songkran to everyone!
Happy Songkran to everyone out there. If you are ever in Thailand during the week of Songkran, the attendance of the Water Festival is a must, which - I promise you - you will never forget.  
---
I wish you all a relaxing Sunday.
Take care!
Till next Sunday
xoxo
Irene
Chasing Dreams 3.0
---
What is Songkran?
The festival that marks the Buddhist New Year from 13 to 15 April is a mix of religious faith, family devotion and aquatic fun. 
Songkran - a name which comes from the Sanskrit word for change or transformation - marks a time to start a new beginning. Traditionally, water was used during the holiday to clean religious monuments and Buddha statues, then poured over elders as a sign of respect and blessing. Over time, as younger generations began taking liberties with the practice, water throwing became the hallmark of the holiday and evolved into the wet celebration it has become today. 
Wiping talcum powder on someone's face is a sign of protection and promises to ward off bad luck! 
Tying a white string around someone's wrist is an expression of good wishes and blessings.