---
Irene's choice of music this week
It's time for one of my favourite DJs
 Matt Darey Nocturnal and his set # 662
Start listening and enjoy best as always with 🎧
👉
---
Flying on a Private Jet
My very first time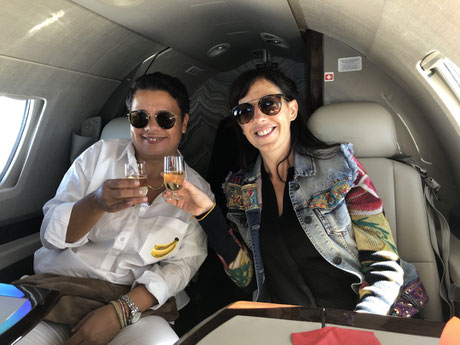 I would have never ever imagined, that one day I would drink champagne at 10.060m (to be exact) in a private jet on the way to Nimes, Provence - South of France. How could I? But since I've started to welcome magic in my life and generally not to expect anything, I get surprised almost every day - sometimes less, sometimes more! 
This for sure was a very big surprise. But let me start from the beginning. 
---
Flying from Bolzano, Bozen
A small airport for a small province called South Tyrol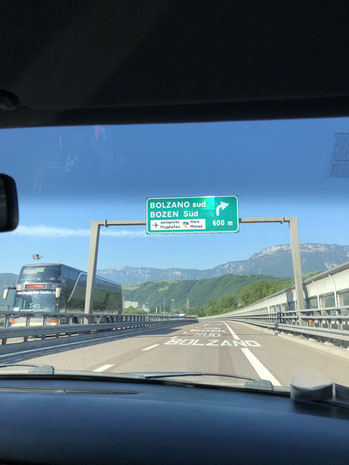 Living in South Tyrol, the northernmost province of Italy, with a population of 530.000 people, means that we usually have to take a longer road to reach a bigger airport. 
South Tyrol has a very little airport in the capital city (Bozen, Bolzano), which offers in 2018 just a few flights to a few Italian vacation destinations during summer time, and of course you can fly in and out private.
This said, we usually have to travel far just to reach the airport, before we can even board an airplane.
As a passionated traveler I know all the airports in a reachable radius from 2-5 hours train ride. It's always a pain in the ass to waist so much time just to reach the airport. Nonetheless I traveled and still travel the world.
Therefore, to fly from Bozen, Bolzano is sweet as honey.
Let the adventure begin! 
Excitement on the rise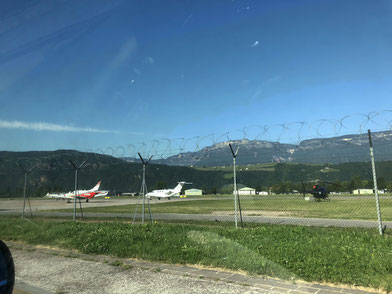 I could feel my excitement rise when I was driving up to the small airport in Bozen, Bolzano. I saw a lot of very small airplanes and helicopters at the airport. I asked myself: "Which one will I fly with?" 
My travel gang, composed of four people and one dog, was already waiting for me at the airport. We were supposed to meet at 9 am and I drove up punctual on the minute. 
Four big smiles and a bark were expecting me: I knew already Mihaela, Peter and Robby - the dog. Jolanda and Lorenz got to be my new travel companions. 
Hi private jet
After a proper meet and greet of our travel gang I got to meet as well our pilots Walter and Daniel. What a lovely welcome and what a great start of a new adventure! The weather was on our lucky side and during the flight we would have a wonderful view of the Italian Alps. 
My luggage got carried away by one of the pilots and there was no check in necessary. A quick security check with no line up later we were able to walk onto the airport ground. 
Our flight was scheduled to leave at 9.30 am. But before departing we had to take a lot of pictures from us and the plane. We still managed to leave earlier then planed: The private jet left the ground at 9.18 am. 
Up in the air
After reaching the flying altitude, we could unfasten our seatbelts and it was time to crack our little champagne bottles and to cheer to our adventures ahead. As you can imagine, the spirit in the private jet was fantastic. 
The pilots Walter and Daniel were sitting not even three meters away from me. There was as well no closed doors between us. 
Landing time in Nimes, Provence
After a wonderful short flight, our pilots landed the plane safe in Nimes, a city in the Provence. Before leaving the aircraft I took the chance to ask the pilots, if I could sit down in one of the their seats. And Daniel, the first officer, smiled and said "of course".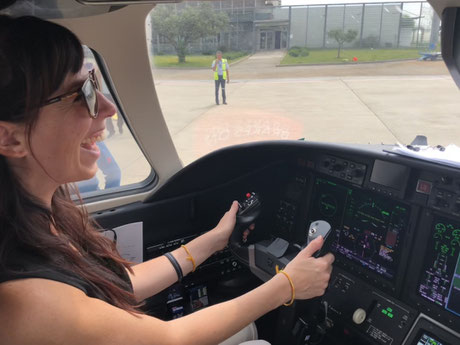 So here I was, sitting on the pilot's seat in a private jet and looking at all the instruments, which are mostly digital nowadays, and I started to laugh! Instead of sitting in an office, working 8 hours a day, 5 days a week, I had such a fabulous day - and the day wasn't even finished yet.
I know, maybe one day I need to go back to a proper job, if my ideas don't work out, but at least I've tried to go my path! One day, when I'm old - like really old - I don't want to think about things I could have done and which I didn't, because I was too afraid or too scared or too whatever. I don't want to have regrets, I just have one life - as far as I know. 
So please, my dear reader, my dear friend, start thinking about your dreams, your ideas and think about what you don't want to regret one day, what you didn't have done. 
I truly believe, that nowadays there is so much possible and that we can achieve something, even if it's just a small thing. You decide how you want to live your life.  I know, it's not always easy - but hey, otherwise it would be boring :-) 
---
Welcome to Provence, South of France
What happened next?
After our very short trip from Bozen to Nimes, we arrived at not even 11.30 am at our final destination in Bourdic, Provence. 
We arrived happy and in a very good spirit, not at all tired and even a bit drunk at the house, where we would stay the next days. What happened next? If you want to know more about my fantastic days in Provence, then stay  tuned until next Sunday, where I reveal our adventures exploring the wonderful Provence! 
A la prochaine fois.
A very big big THANK YOU goes out to my dear friend Mihaela and Peter, because without you I wouldn't even have been able to be part of this adventure. Thank you very much! Merci beaucoup!
And thank you as well Jolanda and Lorenz, for being such great travel & adventure companions. I hope we see us soon again! 
---
Please feel free to subscribe to my mailing list below, so you won't forget the follow up story from my days in Provence and my next adventures about Chasing My Dreams. 
---
I wish you all a relaxing Sunday.
Take care!
Till next Sunday
xoxo
Irene
Happy Chasing Dreams 3.0
---