---
Irene's choice of music this week
This time I feature a track from
  George Maple called Vacant Space 
Start listening and enjoy best as always with
(but not too loud please) 🎧
👉
---
Online or Offline? - that's the question!
As no person probably ever can be totally objective with itself, thus we don't see us always in a clear vision. We just see ourselves as we want us to see ourselves. So if we start having an unbalanced behaviour in something, like using our phone a lot, we probably don't see us that attached to our phones as someone else would see us. 
The same thing happened with me, when I went on the e-bike trip with my sister (read story #28). Not late after we boarded the train together with our e-bikes, she saw me using my phone a lot. I was in the train and I was thinking what could I post on social media? My mind was aware of the scenery passing by when looking out of the window, but I was still focused more on capturing interesting things happening around me.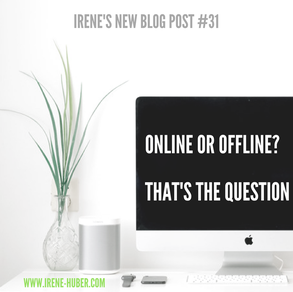 Posting a picture or making a video is more then the actual of taking that shot or capturing those seconds in the camera. It's more about converting those images in something interactive - and of course it takes time to get creative and writing the matching text to it. Putting those ideas out onto social media requires time and some flow. Think about 20 minutes for each post. 
And there is a lot of other online business to do, as you all know. So I don't have to explain that ;-) 
So
whenever my
sister saw me
concentrated on the phone
she pointed this moment out to me.
Specially meanwhile a conversation
she was disturbed by my "non presence".
So what to do with it?
---
Lesson #1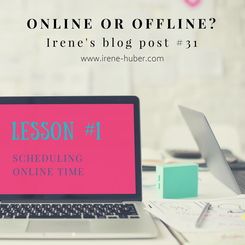 The first lesson I learned after that trip was
to schedule my online time carefully.
About 2-4 times a day I schedule my postings.
Even when I'm traveling or I'm on a trip
I will try to keep this schedule. 
---
Lesson #2
When I'm with a person I try not to use my phone unless it is really important.
I take now time for my Offline Life
with more mindfulness.
The other person is worth my attention.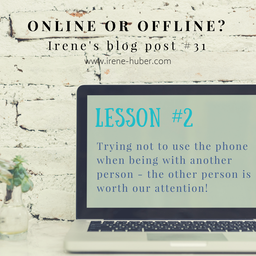 ---
Lesson #3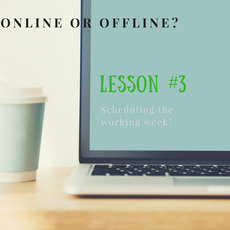 Some weeks ago I started already to schedule my working weeks. They exists of various things:
Scheduling work calls & working on my business projects, which currently are: texting and coming up with ideas for HR-topics for a company and then a private accountant gig for someone wealthy. 

A big part of my time goes to further education, which I mostly perform online.

Working on my own projects like blogging.

Meeting up with friends, family & my boyfriend. 
Time seems to get tight the more I get serious about my businesses and about my personal development.
---
Lesson #4
 Planing my time even better with necessary business stuff.
I keep getting stressed about not working enough each day on my projects and my assignments
I have to rethink my social offline time. 
Keeping focused meanwhile working and working more efficiently.
And maybe just getting up earlier each day.
So as you see I'm still working on my daily routines and trying to fit all under one hat. 
I'm learning by doing and from mistakes I make - so cheers to that!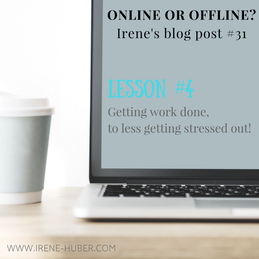 ---
Lesson #5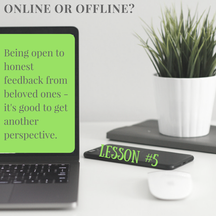 Being open to honest feedback from beloved ones. They see things differently then we do and it's usually good to listen what they have to say. 

We don't have to take every advise they give us. Choose wisley what you like to apply to your life and your behaviour.
I live like that and it helps me to learn better about my own behaviour and why I do things in that manner.
I want to develop myself to the best version of me - Irene Huber.  
---
I wish you all a great summer Sunday.
Take care!
Hopefully till next Sunday
xoxo
Irene
Happy Chasing Dreams 3.0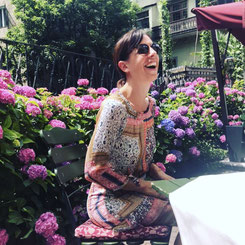 ---
Quote of the week