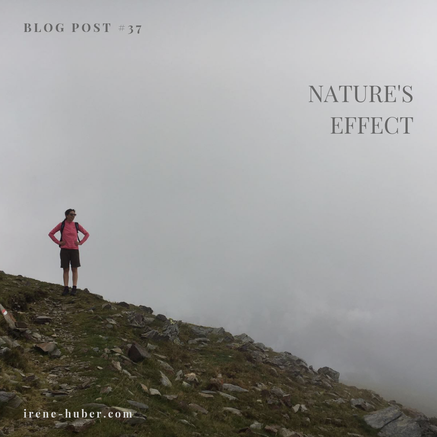 The break is over...
My break time is over. It took some time to get back into the writing mode - but I made it and here I am again. Writing on a Saturday night and finalising this blog post, which wasn't easy. I actually started some other ones, which I might release on another occasion.
I worked on a lot of other things during this time... but the most important thing to me was to surround myself with nature - especially hiking.
Nature Lover
Nature's effect is known as calming and relaxing. Therefore, I love to go in nature. I can breathe easily, and my mind starts to get quieter. With every step I walk deeper into a forest or up the mountain, my thoughts are getting lost in the beauty of nature.
As I put one foot after another, my breath starts to get faster. I admire my surroundings, even though from time to time I need to lower my head to see, if the path is stony or if there are some obstacles laying ahead of me.
Some of my favorite paths to go for a quick walk or for a run are very close to my apartment. After living 12 years in the same place I know those paths by heart.
For me running in nature makes the effect of it even better: Running along deserted paths, where I usually just see some cows or when I'm really lucky even some deer - and almost no people. I breath  just really clean air in, no pollution, no smog, just trees and plants, which are breathing next to me and doing so, cleaning up the air, too.
Hiking is another great activity in nature, which I think is even more rewarding. 
The first hikes of a season are usually the worst ones, because my body is still trying to fight against the steep paths. After each hike, I can't wait to go again out there. And of course, it gets easier each time.
The views on top of a mountain are exceptional. I admire the full beauty of our world & nature. The horizon seems to be endless. The birds are flying high, the sky seems to be almost touchable.
Sometimes clouds hang so low, that I find myself actually in the clouds and I have a hard time making out the path, which should be somewhere in front of me and which I need to keep walking.
When I stand on top of a mountain, then everything else appears very small and tiny. The city, the people, the noise, the pace - everything is far, far away. Peaceful moments like this are priceless to me. 
I traveled most of the world, I saw many beautiful cities, beaches and countryside, but as I was born in the middle of the mountain, I get to feel very grounded and peaceful when I'm standing on top of a mountain - even though I still need to catch my breath. 
The wind is cold, luckily there is some sun, which warms up my body. Sweat is dropping from my forehead, my breath goes fast, and the breeze cools me off at the same time.
This time my rest on top of the mountain is short, I tell myself to keep moving, otherwise my body could get cold. It's late summer, almost fall.
In the mountains you can never be sure about the temperatures. I always bring enough warm clothes with me, in case it gets cold or clouds are covering the sun. Sometimes you sweat like hell and sometimes you freeze your ass off. 
Now, at the beginning of September, I've done some hikes already and therefore I get way faster up the mountain, then for season begin. I love to notice my own progress. It is really rewarding, when you are able to hike in a faster pace than before. It's like every sport, once you keep exercising on a regular basis, you will get rewarded. 
I don't mind going just by myself for a hike in the mountains or for a walk in the forest. I don't even bother to bring some music - I rather bring a book to read, my journal to write and a blanket to lay down somewhere in nature. These days even my laptop stays at home. 
But now, I feel the time has come to start blogging again. 
Being grateful!
I'm grateful to live so close by hiking und walking paths. 
I'm grateful, that I can again rely on my body, which brings me up the mountain or into a forest. 
I'm grateful for a great summer, which allowed me to spend a lot of time in nature.
I'm grateful, that I've had a lot of me-time this year.
I'm grateful, that I'm right now at the public pool in Brixen, that the sun is shining and that I get to enjoy a late summer afternoon.
What are you grateful for today?