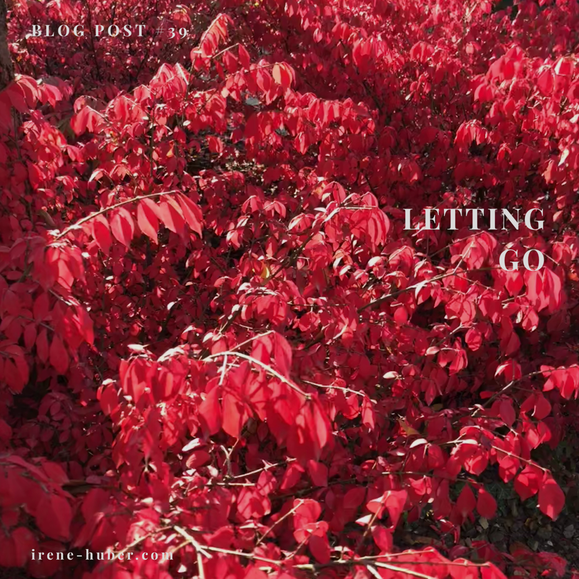 Let yourself get some Illusionary Images of October 2018 from Blugazer meanwhile reading my blog...
Letting Go & Change of Season
Some weeks ago, I noticed the first red leaves on the plants in my garden and it made me sad. Summer is officially coming to an end. 
But the days since I've noticed the first red leaves have been more than great. The sun has been our best friend for some weeks now and there is no end in sight. The temperatures during the day are just fantastic and everyone is trying to catch as much sun as possible, all knowing to well that these days are limited. 
I'm as well embracing the beauty of a very great autumn this year. Summer is still around and somehow it feels, that the time is not ready yet for cold and foggy autumn. Maybe summer is in such a good spirit that it wants to stick around for some more days & weeks. 
As I'm taking for the last time this season the lift to Plose, which is the mountain close to my house, I'm fully aware of the change. 
As the seasons are changing, we are changing, too.
When's the time ready to let go of things and start something new again?
Do you feel the rise of the urge to change when the season is changing?
Or is it a continually growing and changing?
As for now, I'm trying to soak as much sun as possible in and letting things slowly go...
Letting go and breathing in & out.
It's time to let go and it's time for a new beginning. 
Holding on to something, which is changing anyway, isn't going to work - no matter how hard we try to hold on to it. I know it's hard to let go of something known, of something great and of something amazing. But whenever we know there has to be an end, it's better to accept the change and to make the best out of it. Ignoring the change is maybe an option for some time but for sure not a healthy one. Even if it will be painful to accept the change, but at least we deal with the situation and we let go of our emotions. 
Winter will be soon on the doorstep, which means early nights, dropping temperatures and a lot of time to stay in. I usually love winter for its benefits like going home earlier, staying in and getting things done. 
I know, there is still autumn in between, but once the end of October is here, the daylight starts to diminish, the air starts to get chilly, the leaves turn yellow, orange and red – until they fall down from the trees like tears…sad moments to arrive when the trees will be naked and no more colours to look at.
As long as the sky is blue, and the colourful leaves are still on the trees, the scenery in the Italian Alps is magic.  
Letting go of things.
It's a difficult journey to accept some parts of ourselves, which are new to us and which we might have never felt or seen before.
The different meanings of LETTING GO
Letting go can mean to put some things on hold for some time, to adjust some priorities and to start focusing on things that really matter at the moment. 
Letting go means always as well a new beginning and making space for new things in our lives. 
Letting go can as well mean to say goodbye forever. Like to say goodbye to things like:
old habits
negative thoughts
bad energy
Removing old patterns, negative thoughts and bad energy means making space again for more light in life, more sunshine and positive vibes. 
Even if it isn't easy for us, we will smile again and look forward with more trust and positivity in all fields of life. 
So let's see what autumn brings for all of us. 
Let's make it a welcoming change which holds a chance in it.