---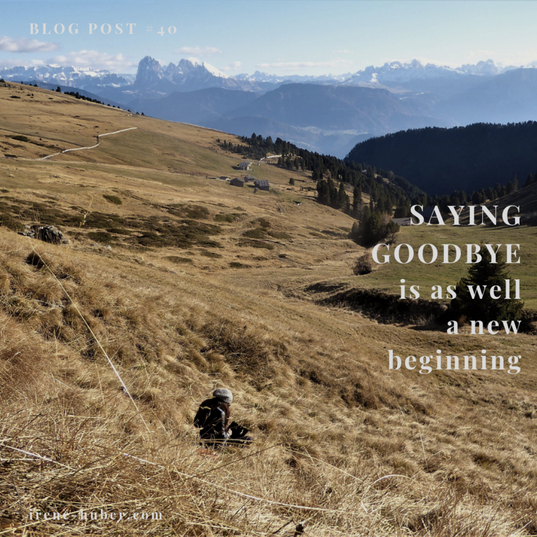 Please enjoy for the very last time....
Best of Yotto, 2015-2018
---
Moving on with life
Middle of November is here. The temperatures are dropping, and the cold is slowly catching up. Sitting in the middle of nature and waiting for the sun to come back, because it's still hiding behind the clouds. How long will I wait until I give up and leave this little piece of quietness I found in the mountains and where I made myself comfortable?
Giving up doesn't always mean to run away from things. Giving up means as well letting go. Accepting the things how they are, that the things aren't going the way as you have wished for. Giving up on something means having tried to succeed in something, that didn't work out. Being brave enough to face the facts, to see the opportunities when you decide to let go.
Closing a chapter means as well to start a new one. With a new chapter you create another possibility, another chance to create something new. Especially if you have learned from the lessons that life throws at you. Embracing the moment and reflecting on past things, on past mistakes. Every mistake, every failure gives you the opportunity to learn more about your true self, about life in general, about relationships with other people, about your patterns and so much more.
Learning so much, when you truly have time for yourself – like 11 months. 11 months of discovering your true self. What do you think you need? And what do really you need? Which patterns do you have? What are your fears? What are your deepest wishes? What brings you joy and happiness? What brings you anger? And how can you find inner peace? How can you balance your life?
Moving on with life rejuvenates not only the mind but as well the soul and the body. Everything is excited for the new things ahead, new places to be discovered, new people to get to know, new challenges to be passed and new skills to be learned.
---
A Journey within 11 months
2018 is almost over. The last weeks of the year are here and my idea with with 52 stories won't hit the goal until end of 2018.
A year full of discovering, leaving many times the comfort zone, trying completely new things, being naïve, being full of hope, making mistakes, learning, falling on the ass and standing up again.
A year with a lot of self-discovering, a lot of honesty and discomfort as well.
A year like on a roller-coaster, with many ups and many downs – and me in the middle.
I want to say Goodbye to this year. Although it's not over yet, I say Goodbye to my 52 stories.
Tim Ferriss, one of the people who inspire me, said once: "The first blog will never succeed."
And here I am, giving up on my 52 stories in one year.
Here I am, saying Goodbye to you, my dear reader & friend.
As my life turns again another direction, another path to be walked on, I decided to write today my official last blog post.
If you want, my dear friend & reader, I will keep you updated from time to time via my mailing list, my newsletters. So, it's the perfect time to subscribe to my mailing list at the end of this page (if you haven't done it yet).
Before I finish this blog post, I want to give you some insights about what happened during my first writing break. And I want to finally publish yet unpublished blog posts from that time.
So, what happened?
20.08.2018
Saying Goodbye ...
is as well the beginning of something new...
The most important relationship that you'll ever have is the relationship with yourself.
No matter how many times you fall in love with another human being, you always end up again meeting your own fears, anxieties and shames.
When it comes down to loving someone else, you first have to love yourself.
Depending on someone else's love is not going to heal you. Healing yourself, embracing your deepest fears and still not giving up on you.
Remembering where you came from, who you are today, who you want to be in months or future years.
Taking one step a time. Trying to survive and thrive today.
Don't think too much ahead if now seems already difficult and uncertain.
So how does a new beginning start?
Starting from zero, from the very low... Setting new rules, heading to new directions.
Planning ahead, getting back into routine. 
Counting again some numbers, still writing for clients, making mistakes - and most importantly learning from them. Learning from them the hard way. But getting back up, shaking off my self-doubt and standing tall again. Feeling the spark of sunshine coming back into my eyes. Having a big smile on my face, regardless the upcoming little wrinkles around my eyes, my mouth, getting older like being 34, single and feeling lost.
Embracing getting older and wiser.
Getting to know myself better, because being single means a lot of time for self-caring and self-loving, learning from my scars, my wounds, my fears, my anxiety while keeping my head up. The backpack of life got heavier, I picked up more pieces of myself, collecting a mosaic of stories...
Stories about a life.
Making a plan about my other stories to be told.
A book to fill with a lot of pages.
No masks.
Just being.
I didn't know how long my break, my pause was going to take.
I didn't know how deep I would fall...how long it would take to understand and to heal.
To all the broken souls out there in the world...never stop believing in yourselves!
I'm back here sharing myself and my talents and so can you! Trust yourself! If we get stones thrown in our way, if we are falling down - it is only up to us to stand back up - to help ourselves - no one ever will do for you!
Quote: Changing Your Mind Based on the Context of the Current Situation is a Strength Not a Weakness.
---
A lot of Questions & Emotions!
06.09.2018
The time of my break was filled with questions.
Questions about a time called healing.
Questions about a time called wondering.
Questions about a time called worrying.
Do you feel sometimes lost?
Are you afraid of the future?
Do you worry about your momentary situation?
If so,
then you aren't alone out there:
I feel sometimes lost.
I'm afraid of the future.
And I worry about my momentary situation.
Even if people don't always tell the truth about how they feel and that they might be afraid, don't think you are alone.
Therefore, I write.
I would love to find people who aren't hiding behind a mask, who aren't afraid of an open and honest conversation about their fears, dreams and hopes.
I miss the endless hours of conversation about life, love and dreams, but as well about anxieties, lack of self-confidence and much more.
Let's talk & be open!
So, if you are out there feeling lonely, but hungry for new beginnings and hope, about living a fulfilled life, just write me an email (irene@irene-huber.com), let's talk & be open.
Don't be afraid of opening up and telling the truth about your emotions and feelings.
It's scary to know I could be judged for the things I write in this blog.
But I truly believe in sharing stories is helpful to others like you, because you might be in a similar situation.
Finding my Why...
As you probably know, I took a break from blogging & social media for 4 weeks.
Why? I needed some space, some time for other important things.
On the other hand, you can see, that I keep writing.
Wondering why?
Writing is a way of healing and letting go!
For me writing is not only about telling you stories. It's way more, because it's a way of healing and letting go of past things. I want to live more in the present moment instead of living in the past and overthinking things, I can't change.
During my break, life left some scars on my heart. It's ok, the wounds will heal with time passing by. I realized as well, that for me my scars are getting deeper the older I get.
---
Today
Let's come back to now – 17.11.2018:
Saying Goodbye ...
is as well the beginning of something new...
The something new for me is a new job, a new city, hopefully many new people I get to meet, a new home I want to find - so everything new.
The desire to start again somewhere new got bigger and bigger with the time passing.
I appreciate that I accept my emotions and that I don't swallow them down. How many times do you swallow some weird feeling down and tell yourself "oh, this will pass, it is nothing important!"?
I didn't swallow my emotions and feelings down, I looked at them very closely and I try to let them go. With letting go, you make room for new emotions, new feelings.
And all those feelings & emotions told me, that the time has come to start over again.
My freelancing career at the moment is over, but maybe I'll pick it up somewhen, somewhere later. Just because it's not meant to be right now, it doesn't mean I'm giving up on it forever.
I learned so much during this time and I admire everyone, who is being a freelancer or entrepreneur.
So, I decided to go back to an employment but this time in another city. 
I'm welcoming the change and I hope to find for once some "inner peace" as well in my employment.
You ask yourself why I choose again getting a job instead of trying harder with succeeding to be a freelancer?
I tried it the last months, but I have to admit and to tell the truth, that I miss the social interaction with other people. I worked mostly from home, where I started to be lonely especially after the break up. I'm a very social person and I love to be around people. In the past, I didn't mind being alone, but I came to the conclusion, that momentary I don't like to be alone longer than a day or so. As I'm still recovering from the dark moments in my life, I'm in need of a structured life as well.
And the new job is actually the reason, why I say Goodbye to you and to my blog. I want to start fresh, from zero, like I've said before. I have to admit, that I'm kind of afraid if people find out about my blog, that I could get easily prejudged from them, especially if they barely know me. Or people could misunderstand my written words. Yes, maybe I hide behind my fear, but no: It's a fair change for me as for them to get to know me from today and not what had been written in the past. Nowadays people google other people. And smart me, a year ago I have chosen to publish my blog under my real name, and with that comes a big responsibility, because there is no possible hiding behind an artist's name.
I have already some ideas for a new blog. But ideas remain just ideas unless they are getting chased into actions. If you are curious to find out if I keep writing, then subscribe to my mailing list below and you'll get an update from me here and there, nothing regularly. As I know myself, the desire to write will get unbearable from time to time and then I will write you a letter.
Saying Goodbye ...
is as well the beginning of something new!
---
I wish you all the best, that all your whishes, desires and needs will be fulfilled and that you can live life in abundance, filled with love, laughter, health and joy. 
And if you hit a dark moment, don't get scared. It's part of human being's life. It won't last forever.
Take care!