Last year I recorded this set for NYE and now it's a great set to be re-listened to; what a year 2020! 
As always, best to hear with 🎧 ->
---
ANKOMMEN - to arrive
WHAT DOES IT MEAN?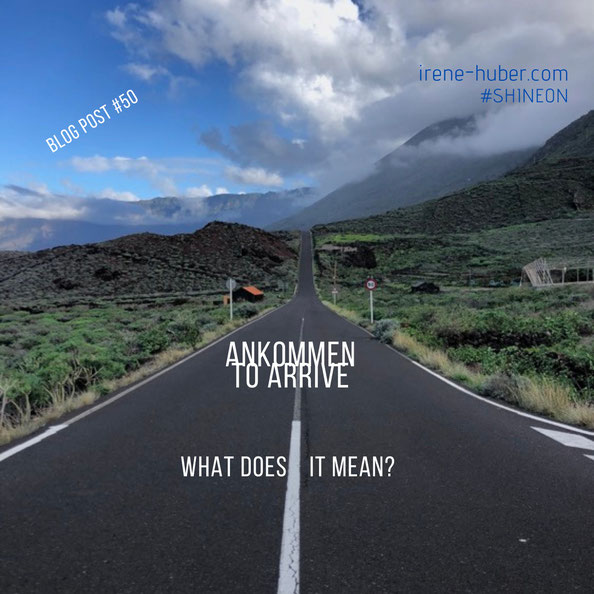 20.12.2020
Jetzt, wo ich wieder viel unterwegs bin und von Haus zu Wohnung mich bewege, wo ich wieder aus dem Koffer lebe – da frage ich mich im Stillen: "Wann bin ich denn wieder mal irgendwo richtig angekommen?"
Die Perspektive wechseln ist bittersüß, mehr sweet als sour, verschiedene Landschaften, Ausblicke, unendliche Weiten, diverse Luftströmungen, andere Sonneneinstrahlungen… es gibt so viel Eindrücke, dass es mir fast unwirklich vorkommt, wenn andere zuhause auf ein Neues eingesperrt werden und ich mich auf den Kanaren im warmen Duft der ziemlichen Freiheit bewege: 
If it wouldn't be for the masks which are everywhere, if it wouldn't be for the missing cultural events, if it wouldn't be for the less tourists, if it wouldn't be for the almost empty strees and the spars filled restaurants and bars – someone could think everything is like before C hit the whole world.
El Hierro - little Island
Auf El Hierro, der 2. kleinsten der kanarischen Inseln, scheint die Zeit still zu stehen. Noch mehr Natur, noch weniger Menschen und Autos, so viele unwirklich erscheinenden Felsen, Gesteine und alte erstarrte Lavaströme - fast schon unglaublich. Schon die Fahrt mit der Fähre war in einer ganz anderen Atmosphäre gehüllt, die Menschen on board in sich ruhend; überall respektvolle und freundliche Blicke. 
Auf der Insel grüßen sich noch die Leute auf der Straße oder winken freundlich aus den Autos, egal ob Fremde oder Einheimische – das macht hier keinen Unterschied. So viele zufriedene Gesichter, die Ruhe auch in den Dörfern vorzufinden, die Macht der Natur allgegenwärtig – so schön, dass sich die Menschen hier noch auf die Mutter Erde, auf die Sonne, auf den Wind einlassen. 
---
Touristy Fuerteventura
Fuerteventura so touristy, everything what women and men need you are able to find there. The beaches of the sand desert island are truthfully picturesque.
Even in the almost empty touristy places the hustle and bustle is still omnipresent, it lays still all over from times not so long ago. 
Doch auch hier findet man einsamere Gefilde, düster wirkende Siedlungen aus vergangenen Zeiten und sogar die alte Hitler-Villa, von wo die hochkarätigen Kameraden nach Südamerika entflohen (bzw. entfliehen wollten). 
---
La Palma
Some more People & Houses in between Green
La Palma ist relativ dicht besiedelt, schwer noch ein freies Fleckchen zu entdecken, außer im Norden und im Süden kann man einen ruhigen Ausblick antreffen. Für mich war die Insel windig und kalt, aber trotzdem schön, denn es war für mich die erste Insel nach La Gomera. Im Auto geschlafen, gekocht mit einem Gaskocher, Katzendusche und outdoor-Toilette, einfach mal easy going unterwegs sein. Im morgendlichen Sonnenlicht auf dem Strand praktizierte ich Yoga und Meditation. Ein Abenteuer für sich! 
Tenerife - Million People Island
And there is Tenerife, where I've been already quite a lot for various reasons, to buy stuff, to explore some parts of the nature there, the North, the Teide and where I ran into stress of the million people island and where I've envied then the peace of La Gomera.
Christmas on El Hierro
Aber jetzt, wo ich auf El Hierro bin, fühle ich mich irgendwie schon zuhause, angekommen. Keine Ahnung, woher ich das bereits nach einer knappen Woche wissen kann, es ist mir auch ein kleines Rätsel, aber eigentlich kein großes, denn ich bin es ja von früher gewohnt, zu reisen und mich aufgrund meiner schnellen, intuitiven Analyse von Ankommen bis hin zu einem JA oder NEIN des längeren Verweilens zu bewegen.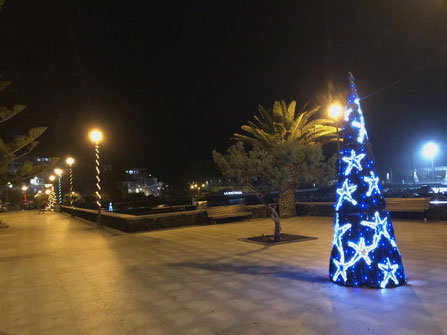 In my suitcase and backpack I carry always the most important things; therefore, the arriving gets easy with my little belongings. Letting go and discovering the new, expanding my horizon and heart trough new impressions and hence returning to myself. 
Shortly before Christmas I hope everyone is able to return to themselves and to find the key to happiness, which we carry in our hearts and from deep within we all know what makes as truly happy – please don't stop following the path of your heart - and you need way less material things than you would have thought in the beginning. Life is simple.
Ankommen - To Arrive
on El Hierro
10.01.2021
La Restinga – El Hierro
Endlich bin ich angekommen und ich schöpfe wieder von neuem, fange wieder bei null an… es fühlt sich an, wie wenn man bei Monopoly die Karte "Gehe auf Los" zieht, nur dass ich keine 500 Moneten bekomme, dafür aber habe ich mein neues, eigenes Zuhause gefunden – juhu! 
The island caught my soul from the beginning, and I trust the signs and my intuition; I go with the flow. 
It's good to feel at home, even though not everything is perfect yet. But will it ever be perfect? I mean we chance all the time, so I guess the imperfection makes life even more interesting. For me it's like adapting and making the best of what is and I try to think less about what I don't have. We all know the saying: Is the glass half full or half empty? 
What you see and what you feel comes all from your mindset and point of view. Waking up and getting greeted by a rainbow from the window of my bedroom is already a big gift to me. Or the sun which shines already from the first sunrays into my living room – what more could I ask for? 
My view rests on the endless ocean in front of me, the peace is everywhere, and I absorb it deep like the air which I am breathing. My mind gets still, I get humble by the world which I immersed myself into. 
And my dreams seem to be not so far anymore as they have seemed to be some weeks/monts ago. 
Keep smiling
& 
Keep breathing
And remember: When you can't find sunshine, be the sunshine!
Irene
#shineon
Don't forget to subscribe to my newsletter and to share the story with a friend. Thx